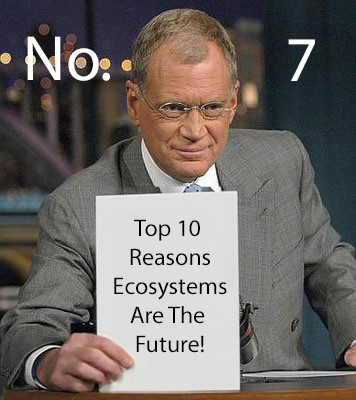 As disruptive scenarios impact every industry, I see them coalescing into ecosystems around multi-industry consumer needs.  Because our lives are naturally multidimensional, our needs are like intersections for disruptive scenarios and anchor points for the future of our industries. Thus, it's critical for business strategists, entrepreneurs and individuals alike to understand ecosystems.  I'm counting down the top ten reasons why I believe ecosystems are the ultimate destination of disruptive scenarios and the future of business.
So far, I've presented the emerging community value system that's supporting society's shift toward ecosystems, the proliferation of industry platforms that's enabling organic growth of ecosystems, and the rapid growth of the collaborative economy, which is embodying the ecosystem model across nearly every industry.  In this post, I'll look at how the ecosystem model is spreading to the workforce through freelancing and coworking.
Tomorrow's workforce is independent

If business is fundamentally about people exchanging value, then there's no question that in a highly-networked world of ubiquitous information, we are all on a level playing field.  Individuals today have more opportunity to find work, make contacts and exchange value than ever before thanks to technology and its network effects.  And people are doing so at an ever-increasing rate.  The Freelancer's Union studied this trend and found there were 53 million or 34% self-employed freelancers in the US currently, and it projected that by 2020, 40% of the workforce will be independent.  The study found that:
"For the past two decades, Americans have felt a shift to a new kind of work. The traditional "full-time job with benefits" [is] becoming less and less common, replaced by a new gig-to-gig, project-to-project worklife. Workers can pursue more meaningfully independent lives. Businesses can access the exact right skills and people they need at the exact right time.  A more nimble economy is potentially more innovative, more competitive, and better able to deal with the fluctuations of global markets.  But this is more than an economic change. It's a cultural and social shift on par with the Industrial Revolution.  Just as the move from an agrarian to an industrial society had dramatic effects on social structures around civil rights, workforce participation, and even democracy itself, so too will this shift to a more independent workforce have major impacts on how Americans conceive of and organize their lives, their communities, and their economic power."  
This sentiment was recently echoed by Upwork, a freelancer marketplace:
"But technology is now changing the nature of work. The trend points to a new era in which most of us will work in multiple "micro-careers" at the same time, leaving the traditional full-time job behind. "Work" is likely to turn into a marketplace in the cloud rather than a desk and a chair at a traditional corporation. A free agent workforce will be able to make a good living layering a number of professional relationships, entrepreneurial passions and other money-making pursuits on top of each other."
Independents are coworking
This free agent workforce is increasingly coworking, a style of work that involves a shared working environment that facilitates creativity, ideation, collaboration and exchange of services.  Coworking, which was originally defined by Brian DeKoven as a method to facilitate collaboration coordinated by computers, began with the hackerspace movement of the late 1990's.  Since then, coworking studios have sprung up around the globe with the first local network of spaces opening in Vienna in 2004 and the first global network launched by Hub in 2005.  The movement has grown rapidly with conferences, publications, and space sharing alliances throughout an estimated 2,000 worldwide locations.
According to this Forbes article, "Co-working spaces are melting pots of creativity,"said Beau Button, Founder of WebDevrs and the Dojo in New Orleans. "They generate a level of synergy that results from the proximity and collaboration of like-minded people.  New relationships are developed.  Ideas are challenged. Problems are solved."  Andrea Chen, Executive director of Propeller Incubator added, "Despite working in similar fields, people are not competitive in coworking environments. Everyone finds their own niche and often encourages peer-to-peer learning and collaboration."  According to Fast Company, in an annual survey conducted by Deskmag, people who work in coworking spaces reported to be more productive, confident, and creative. It showed that 70% felt healthier than they did working in a traditional office setting, 71% were more creative, 62% reported that their measure of work improved significantly and 90% said they felt more confident when coworking.  This is contrasted against traditional office environments where reports estimate as high as 70% of employees are actively disengaged.
Exponential organizations leverage communities & free agents
In his book Exponential Organizations, Salim Ismail writes about the characteristics of the companies that are thriving on the exponential change brought on by the information economy.  He states: "an exponential organization (ExO) is one whose impact is disproportionately large – at least 10x larger – compared to its peers because of the use of new organizational techniques that leverage accelerating technologies."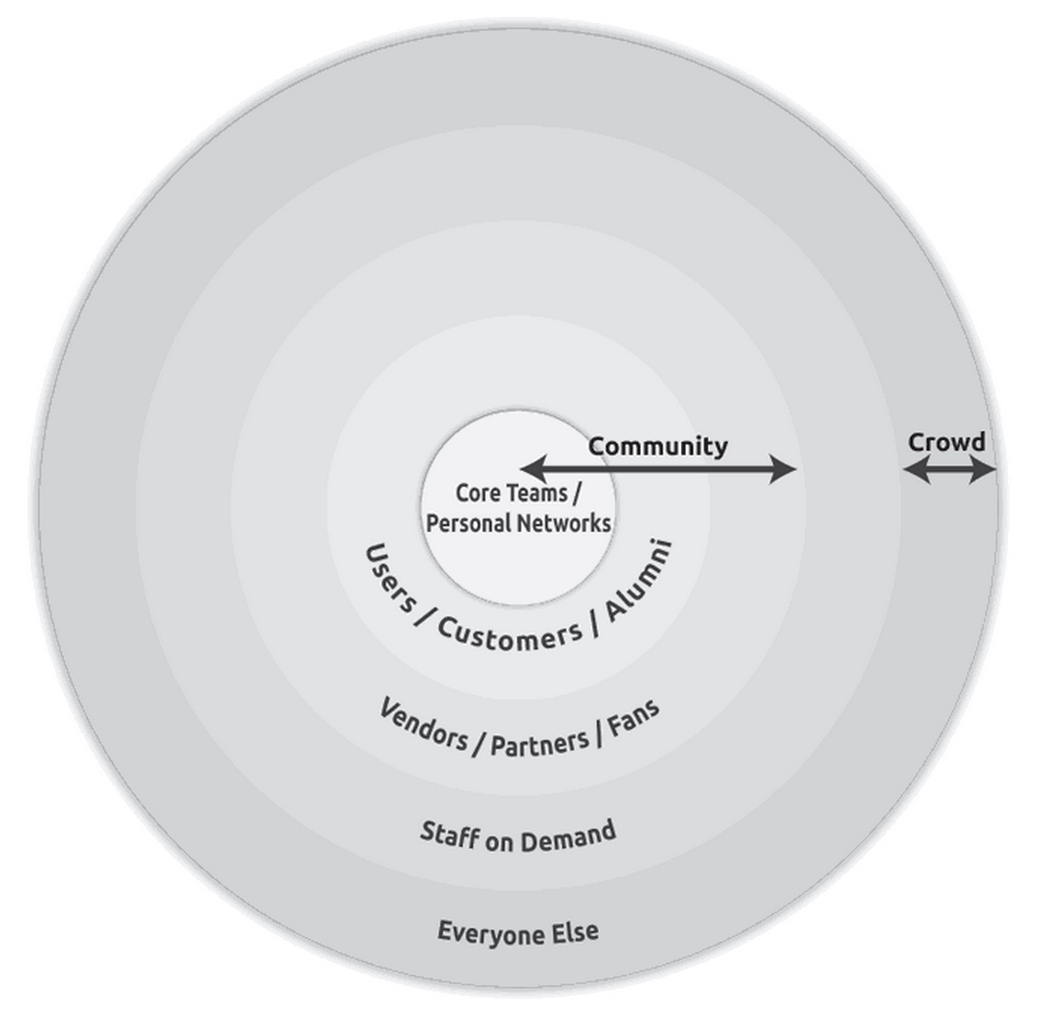 Ismail specifies community, staff on demand, and crowd as three key techniques of exponential organizations (see graphic at left).  Exponential organizations mobilize trait-based communities that share intent, beliefs, resources, preferences, needs and risks to engage highly motivated people around their purpose.  They staff on demand to fill expertise gaps, access just-in-time labor and increase diversity of ideas.  Lastly, they leverage the crowd to harness the creativity and innovative power of people outside of their communities to solve specific problems or challenges.
All of these exponential techniques are enabled by coworking, which is forming a foundation for global communities, staffing on demand and the crowd.  And big businesses have taken notice.  Companies like AT&T, Zappos, Ericson, Twitter, Accenture, PwC, Amway, Ericsson and Plantronics are using coworking to generate and test ideas by harnessing the power of a diverse group of non-employees.  With an estimated 3 billion more people coming online by 2020, the number of potential people available to cowork on demand or via the crowd is enormous.  Professor Clay Shirky refers to the crowd as the cognitive surplus and estimates that it will represent 3 trillion hours of available annual work effort by 2020.
Freelancing, coworking and business ecosystems
There's something compelling about coworking that's missing from traditional corporate environments.  Its focus on community, creativity and innovation is intrinsically motivating and makes business more human and meaningful.  As more people become free agents and cowork, business will continue to decentralize and democratize.  As the global workforce decouples and modularizes, coworking ecosystems will self-organize, emerge and disruption will accelerate.  That makes "Freelancing & Coworking" the number 7 reason that ecosystems are the future.
Previous:
Number 8 – The Collaborative Economy
Number 9 – Industry Platforms
Number 10 – Community Values