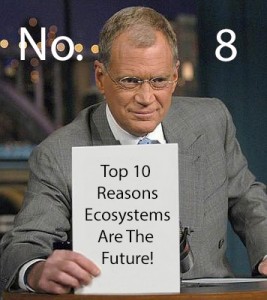 As disruptive scenarios emerge to impact every industry, I see them coalescing in the form of ecosystems. I believe ecosystems, which are self-organizing, purpose-driven networks, will form around multi-industry consumer needs. Because our lives are multidimensional by nature, our needs represent the intersection points for disruptive scenarios and anchor points for the future makeup of our industries. Understanding ecosystems is therefore critical for business strategists, entrepreneurs and individuals alike. I'm counting down the top ten reasons why I believe that ecosystems are the ultimate destination of disruptive scenarios and the future of business. We're on number 8: The Collaborative Economy.
What is the Collaborative Economy?
Everyone is aware of the attention that Airbnb and Uber are getting for their sky rocketing growth and valuations. Airbnb, which is currently valued at over $20 billion, facilitates the peer to peer exchange of housing, while Uber, valued at over $40 billion, facilitates ride sharing. These companies are the darlings of the so-called Collaborative Economy, which is comprised of several related movements as defined by Rachel Botsman:
Collaborative Economy: An economic system of decentralized networks and marketplaces that unlocks the value of underused assets by matching needs and haves, in ways that bypass traditional middlemen.
Collaborative Consumption: The reinvention of traditional market behaviors—renting, lending, swapping, sharing, bartering, gifting—through technology, taking place in ways and on a scale not possible before the internet.
Sharing Economy: An economic system based on sharing underused assets or services, for free or for a fee, directly from individuals.
Peer Economy: person-to-person marketplaces built on peer trust that facilitate sharing and direct trade of assets.
On Demand Services: Platforms that directly match customer needs with providers to immediately deliver goods and services.
Botsman adds, the collaborative economy is enabling an emerging redistribution of power from centralized institutions to decentralized, distributed networks.
Across sectors, power is moving from big, centralized institutions to distributed networks of individuals and communities disrupting who we trust and how we can access goods and services. Through a business model lens this is creating the much-talked-about dynamic of "disintermediation," or removal of the middlemen that web technologies provide the efficiency and trust to create. But equally powerful is the big shift we are just in the nascent stages of expieriencing: from a society of passive consumers to active and connected creators, collaborators, producers, financers, and providers.
The Collaborative Economy is rapidly gaining momentum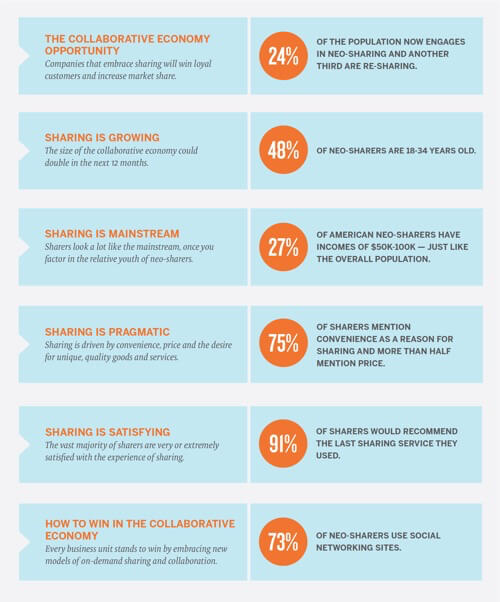 The collaborative economy is not limited solely to Airbnb and Uber. Forbes estimates, "the revenue flowing through the share economy directly into people's wallets will surpass $3.5 billion this year, with growth exceeding 25%. At that rate, peer-to-peer sharing is moving from an income boost in a stagnant wage market into a disruptive economic force." Fast Company cited a report, which surveyed more than 90,000 people in the U.S., U.K., and Canada to find out how and why people participate in the growing movement. The Sharing Is The New Buying report found that 113 million people or about 40% of the population was participating in the collaborative economy movement.
The movement has spread rapidly across business sectors, including learning, money, goods, municipal, health & wellness, food, logistics, services, corporate, transportation, space and utilities as illustrated by Jeremiah Owyang in the following infographic.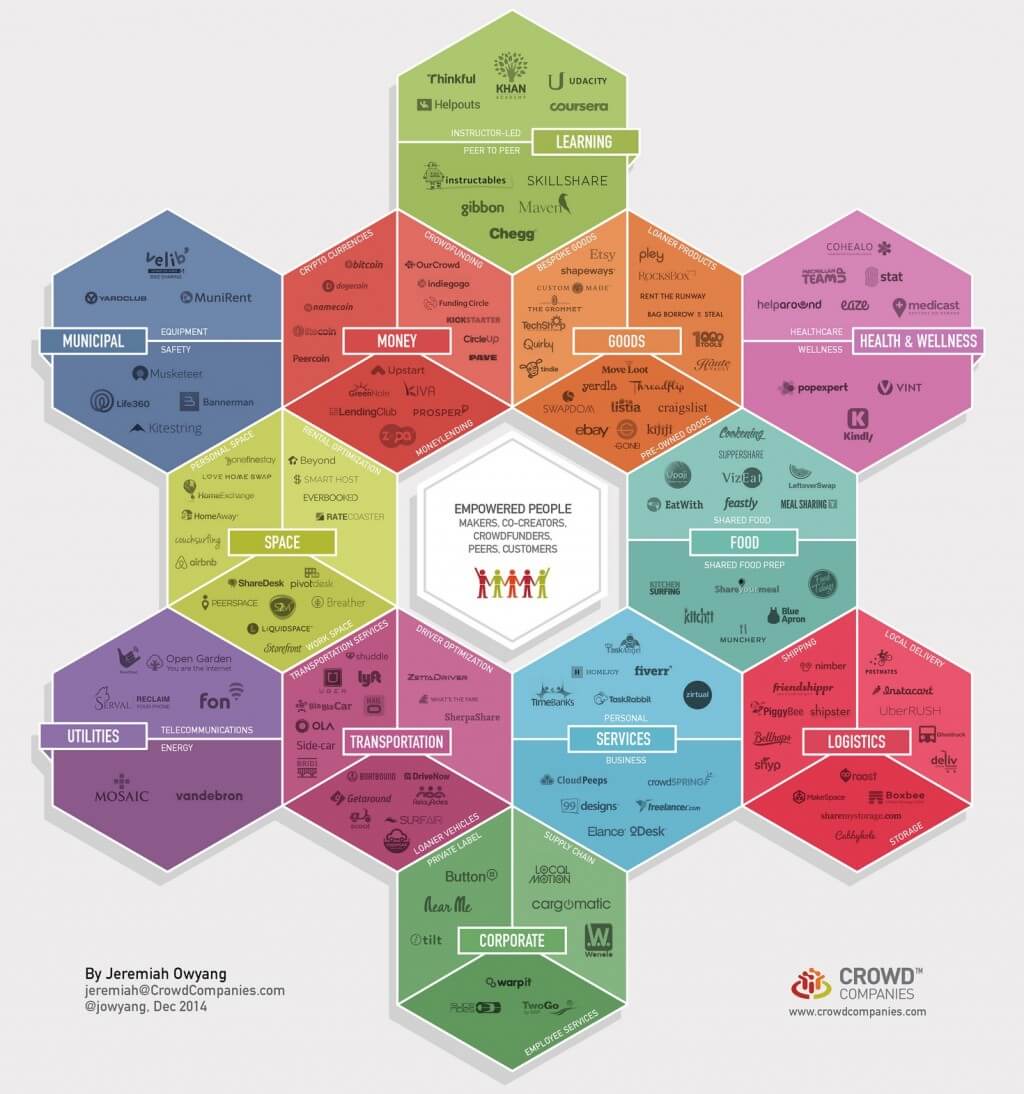 The Future of the Collaborative Economy
While collaborative economy businesses like Uber and Airbnb are making their owners wealthy, many wonder whether they embody the true spirit of sharing.  These companies and many other collaborative economy start ups own very few assets, employ very few people and make money by facilitating peer to peer exchanges.  Jeremy Owyang addresses the issue of these businesses appeasing Wall Street while sharing value with the communities that produce it.  He believes that "companies that care about longevity of their relationship with their customers will share the rewards with community, fostering long term loyalty, deeper engagement, and advocacy from customers and partners".  I see this as a transition phase as we move from the prosperity value system that seeks to compete and create material wealth to the community value system that favors genuine sharing.  The essence of the collaborative economy is decentralization and democratization where individuals exchange value with each other directly thereby distributing wealth equitably.  In the book "It's a Shareable Life", authors Chelsea Rustrum, Gabriel Stempinski and Alexandra Liss consider the collaborative economy to be a peer-to-peer revolution and a truly democratizing movement, which decentralizes power into the hands of individuals and represents a newfound sense of freedom and way for people to access unique and meaningful experiences. Their hope is that the collaborative economy simply becomes known as the economy and they offer the following predictions:
People will have equal access to education, generating a more global, egalitarian economy
There will be more communal housing and blurred lines between work, play and raising a family
Work will be flexible and enable more people to work remotely from anywhere
There will be tighter kinship between neighbors and more localized sharing, fueled by technology and grassroots efforts
Cities and municipalities will integrate sharing services into the fabric of everyday life, becoming "sharing cities"
Truly peer-driven organizations will emerge, generating shared ownership amongst the providers with open source software and hybrid legal models
An internationally networked value exchange will enable people to lend their homes, cars, and possessions without currency
The Collaborative Economy and Business Ecosystems
The collaborative economy is essentially comprised of self-organizing, purpose-driven networks. It is founded on community values and leverages open, interoperable platforms that accelerate the organic growth of communities.  All of these are key attributes of ecosystems.  While most collaborative economy start ups today are creating ecosystems inside of industries, I envision the collaborative economy facilitating further consolidation around multi-industry consumer needs and spawning even broader business ecosystems, which makes "The Collaborative Economy" the number 8 reason that ecosystems are the future.
Next Up: Number 7 – Coworking
Previous:
Number 9 – Industry Platforms
Number 10 – Community Values