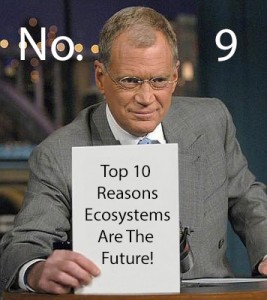 As disruptive scenarios emerge to impact every business and industry, I see them coalescing in the form of ecosystems. I believe ecosystems, which are self-organizing, purpose-driven networks, will form around common consumer needs. Because our lives are multidimensional by nature, our needs are intersection points for disruptive scenarios and anchor points for future multi-industry ecosystems. Understanding ecosystems is therefore critical for business strategists and entrepreneurs.  I'm counting down the top ten reasons why I believe that business ecosystems are the ultimate destination of disruptive scenarios and the future of business.  We're on number 9: Industry Platforms.
From products to industry platforms
In How Companies Become Platform Leaders, Annabelle Gawer and Michael Cusumano describe the difference between products and industry platforms. Products are proprietary and under one company's control, whereas industry platforms are foundation technologies or services that are essential for a broader, interdependent ecosystem of businesses. Industry platforms need complementary innovations to be useful, and vice versa. In Industry Platforms and Ecosystem Innovation, Gawer and Cusumano state that industry platforms are often associated with "network effects": that is, the more participants who adopt the platform, the more valuable it becomes because of growing access to the network and complementary innovations. Kerrie Holley, in the impact of industry platforms, writes industry platforms unlock new value from spare resources and ecosystem generated content. Platforms open themselves to third party contributions. Mark Andresson, Venture Capitalist and Netscape founder, defines industry platforms: A platform is a system that can be adapted to countless needs and niches that the platform's original developers could not have possibly contemplated.
Without industry platforms, business ecosystems could not exist. Industry platforms are typically open and interoperable to foster innovation and organic growth and are the glue that bind complementary businesses together and create a unified experience for customers.
Gates, Grove and Jobs understood industry platforms
In their book "Strategy Rules", David Yoffie and Michael Cusumano identified the common leadership characteristics of Bill Gates, Andy Grove and Steve Jobs, that enabled them to build their companies to peak market capitalizations of $612, $501 and $668 billion, respectively. Among the leadership traits shared by each of these industry icons, was the vision to build industry platforms, not just products. Their goal to build industry platforms that brought together broad ecosystems of partners engaged in complementary product and service innovation enabled them to create competitive advantage and influence the world beyond the boundaries of their individual firms. Gates' 1980 licensing arrangement with IBM for the DOS operating system, which launched Microsoft to dominance of the PC software market, is one of the earliest examples of ecosystem strategy. Like Gates, Grove used Intel's relationship with IBM to catapult it to market leadership by ensuring that its x86 microprocessors remained an essential part of the PC platform. Intel's ecosystem mindset led it to create many open/free PC innovations, such as PCI (peripherals) and USB which had the effect of improving the overall PC experience and growing the entire ecosystem. Jobs' and Apple's iTunes and iOS/App Store revolutionized the music industry and mobile computing respectively by creating industry platforms that quickly established market leadership. Yet Jobs' reluctance to share iOS opened the door for Google to create its Android platform and today, Apple, Google, Microsoft and Amazon are all vying for platform ecosystem dominance in mobile, music, books, TV, shopping, gaming, video and online storage.
Industry platforms are emerging across all sectors
Industry platforms and ecosystem models are not limited only to technology industry giants. Companies across nearly every industry are creating platforms that enable emerging ecosystems. According to a recent Forbes article, emerging Financial Services platform companies include: OnDeck, which provides small business owners an alternative to banks for loans; Wealthfront, an automated financial advisory platform, which has $1 billion under the management of its proprietary algorithms; The Currency Cloud, which processes nearly half a billion dollars in international payments per month, and is gaining market share because it is able to add new features quickly and adapt to new platforms; and Stripe, which is valued at $1.75 billion and supports payments for Apple Pay, Twitter, Alibaba and many startups who like the fact that its code is open and easy to manipulate. Platform companies are also emerging in Education according to this article. They include: Udemy, an online marketplace for learning, which enables anyone with knowledge and skills to create an online course; Khan Academy, which embarks on social missions by offering free courses such as SAT tutoring of the kind that only wealthy teenagers could use in the past; and Kaltura, an open-source online video platform, which enables universities such as Harvard, Yale and Stanford to bring video into every aspect of the campus and classroom. Other platform examples include Etsy, a trading exchange for makers/micro-manufacturers and Kickstarter, a crowdfunding exchange.
Industry platforms are also emerging rapidly to enable the $270 billion connected car ecosystem led by Apple's Carplay, IMS Drivesync, OpenCar, and Cloudmade. Google and Microsoft are also developing connected car platforms. The connected home is another ecosystem where platform providers are waging war. According to this Gigaom Research article, when Google-owned Nest recently acquired hub maker Revolv, co-founder Matt Rogers commented to The Verge, "It's about building the platform so other people can build their businesses on it. We'll sell more Nest products into a richer ecosystem." Gigaom reports the competition to control the smart home is yet another point where Apple and Google are now butting heads. The opportunity to be the preeminent platform for accessing the home with the best connectivity with third party devices provides another reason for a consumer to buy into the entire ecosystem of each IT leader.
The most disruptive of industry platforms
Perhaps no emerging platform has more disruptive potential than Blockchain, the technology underlying crypto-currency Bitcoin. Blockchain is redefining the very nature of platforms. Whereas most industry platforms are centrally controlled applications, blockchain is like an ecosystem itself. According to O'Reilly research, blockchain is a catalyst for the creation of decentralized applications, a next-step evolution from distributed computing architectural constructs. Developers are already working to expand the blockchain platform beyond financial uses. For example, Ethereum is a blockchain-based platform that secures and executes a wide variety of services including: voting systems, domain name registries, financial exchanges, crowdfunding platforms, company governance, self-enforcing contracts and agreements, intellectual property, smart property, physical asset keys and distributed autonomous organizations – corporations run without any human involvement under the control of an incorruptible set of business rules.  A list of other potential blockchain uses can be found here. Decentralized application platforms are going to enable a decentralization trend at the societal, legal, governance, and business levels because there is a race to decentralize everything and give power to the edge of the networks.
Industry platforms and business ecosystems
At no time in history have we seen so many industry platforms being developed by companies vying for ecosystem leadership. Through openness and interoperability, industry platforms power the organic growth of business ecosystems, embody the emerging community value system and enable the move toward decentralization of everything.  This makes "Industry Platforms" the number 9 reason that business ecosystems are the future.
Previous:
Number 10 – Community Values