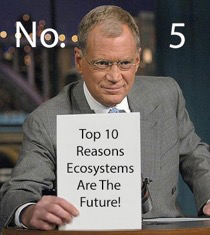 As disruptive scenarios emerge to impact every industry, I see them coalescing into ecosystems. Because our lives are multidimensional, our needs are the intersections for disruptive scenarios and anchor points for the future of our industries. Thus, it's critical for business strategists, entrepreneurs and individuals alike to understand ecosystems. I'm counting down the top ten reasons why I believe ecosystems are the ultimate destination for disruptive scenarios and the future of business.
So far, I've presented the emerging community value system that's supporting society's shift toward ecosystems and the proliferation of industry platforms that's enabling the organic growth of ecosystems. I've shown how the collaborative economy embodies ecosystems, how the ecosystem model is spreading to the workforce through freelancing and coworking and how intrinsic motivation is essential to the creation and performance of ecosystems. In this post, I'll look at how purpose underpins the very existence of ecosystems.
What's Increasingly Important
When my colleague Frank Diana presents his views on the evolution of business, he begins by asking his audiences whether they believe that we are in the most transformative period in history. If they don't believe so before his presentation, they invariably do by the time he has finished. Indeed, there is mounting evidence that not only are we in the most transformative period in history, but we are continuously in the most transformative period because of the exponential rate of innovation. While most evidence supporting exponential change focuses on technology innovation (eg – Moore's law and general purpose technology), I have written throughout this blog that human values and priorities are also evolving exponentially. And chief among emerging human priorities is the quest for purpose and meaning.
An Economy Centered on Purpose
In his book The Purpose Economy, Aaron Hurst writes that a new economy centered on the need for individuals to find purpose in their work and lives is emerging as consumers, employers, community leaders, policy makers and employees play a role in restructuring society to meet the demands of people and the planet. He says the Purpose Economy helps explain many recent movements, which all point toward purpose as the core driver of the economy. Hurst is founder of Taproot Foundation, a nonprofit organization that makes business talent available to organizations working to improve society. In twelve years of working with professionals who have donated over $100 million in pro bono services, he found people were overwhelmingly motivated by a sense of community, the opportunity for self-expression and personal growth in pursuing personal, social and societal purpose. In his work, he has witnessed a shift toward social impact, citing countless examples of purpose emerging in culture. He notes consumer buying patterns shifting toward sharing, handcrafted products and organic food. He cites President Obama's Office of Social Innovation, a shift in journalism toward societal issues and a shift away from economic measures like Gross Domestic Product to measures for human rights and social progress. This purpose-driven shift is emerging in business as well. Social entrepreneurship is growing rapidly as the impact investing market, which funnels capital to purpose-driven entrepreneurs, is now estimated at $46 billion.
Purpose-driven Companies Outperform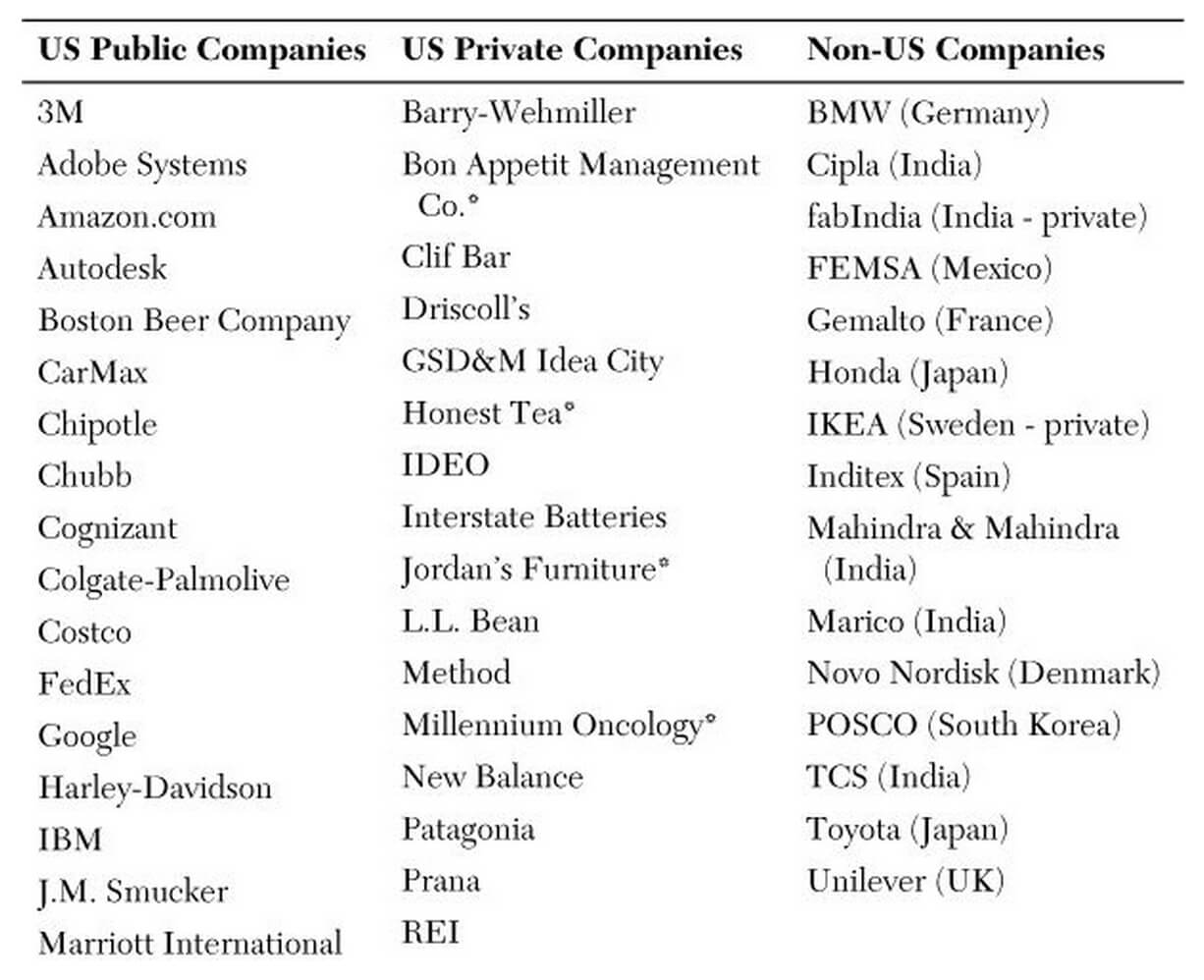 Established companies are also emphasizing purpose and reaping its benefits. In the book, Firms of Endearment, authors Raj Sisodia, Jag Sheth and David Wolfe echo Hurst's sentiments. They note that the shift in human values has brought about an age of Transcendence, where companies have broadened their purpose beyond shareholder wealth to act as agents of the larger good. They call these companies Firms of Endearment (FOE) because they endear themselves to all participants in their ecosystem – customers, employees, suppliers, communities and shareholders – by aligning the interests of all in a way that they all prosper together. The authors profiled 28 FOE and found that they not only outperformed the S&P 500 by huge margins, they also outperformed the companies highlighted in the bestselling book Good to Great, which identified 11 companies that delivered superior returns to investors over extended periods. The performance metrics below are nothing short of astounding.
| | | | | |
| --- | --- | --- | --- | --- |
|  Cumulative Financial Performance |  15 Years |  10 Years | 5 Years | 3 Years |
|  US FoEs |  1681.11% | 409.66% | 151.34% | 83.37% |
|  International FoEs | 1180.17% | 512.04% | 153.83% | 47.00% |
|  Good to Great Companies | 262.91% | 175.80% | 158.45% | 221.81% |
|  S&P 500 | 117.64% | 107.03% | 60.87% | 57.00% |
"Purpose-driven companies consistently outperform the market."
Purpose Motivates Like Nothing Else
In Conscious Capitalism, Whole Foods Market co-founder John Mackey and Raj Sisodia write that free-enterprise capitalism has been the most powerful creative system of social cooperation and human progress ever conceived. Even so, it has suffered from the tired maxims of self-interest, exploitation and profit maximization. They believe however, that capitalism has the power to create places for people to exchange value, find meaning, build relationships and experience intimacy and trust. They believe conscious capitalism is an evolved form of capitalism that promises a dramatically better future: "Conscious capitalism is a way of thinking about business that is more conscious of its higher purpose, its impacts on the world, and the relationship it has with its stakeholders. It relects a deeper conscousness about why businesses exist and how they can create more value."
The first tenet of Conscious Capitalism is higher purpose, a definitive statement about the difference an organization is trying to make. They quote Unilever CEO Paul Poleman: "Having a deeper purpose makes our lives more complete, which is a tremendous force and motivator. What people want in life is to be recognized, to grow and to have made a difference." They also quote oral historian Studs Terkel and perhaps he puts it best: "It is about the search, too, for daily meaning as well as daily bread, for recognition as well as for cash, for astonhishment rather than torpor; in short, for a sort of life rather than a Monday through Friday sort of dying."

Jan Bruce agrees. In her Forbes article, she writes that "people are desperate to be part of something bigger than themselves." She characterizes three levels of engagement people have with their work:
Level 1: most basic and the least involved: You're there for the pay and the benefits. End of story.
Level 2: You're there because you enjoy the work and the people you work with. It's a good place to be and you don't hate being there. For some, that's as good as it gets.
Level 3: You're there because you believe you are contributing to something important. You're aligned with a mission, and your actions, your hard work, has a purpose.
Mackey and Sisodia conclude: "that to tap this deep wellspring of human motivation, companies need to shift their emphasis from profit maximization to purpose maximization. By recognizing and responding to the hunger for meaning that is a quintessential human condition, companies can unlock vast sources of passion, commitment, creativity and energy that lie largely dormant in their team members and other stakeholders."
Purpose: Go Big or Go Home
It's one thing for a business to have a strong sense of purpose. It's another thing entirely to have a purpose that's world changing. In Exponential Organizations, Salim Ismail describes the characteristics of companies whose impact is disproportionately large – at least 10X larger – compared to their peers due to their use of exponential technologies. Companies like Youtube, Groupon, Uber, Tesla, WhatsApp, Snapchat and Oculus Rift have gone from conception to market capitalizations over $1 billion in 3 years or less and are scaling and generating value at a pace never before seen in business.
First among the characteristics of exponential organizations is massive transformative purpose (MTP). "An MTP is a statement that aims to capture the hearts, minds, imaginations and ambitions of those both inside and especially outside the organization. An MTP declares with sincerity and confidence that it intends to accomplish near-miracles and it generates a cultural movement so inspirational that a community forms around it and spontaneously begins to operate on its own." This is the very essence of ecosystem!
Having an MTP differentiates exponential organizations from traditional companies because:
it creates a first mover marketplace advantage that can't be easily replicated
it is a talent magnet
it spawns an ecosystem of businesses, developers, suppliers, partners, and government that acceleates growth
it creates aspirational brand loyalty as customers are increasinly proud to be a part of the movement
it aligns with social innovation and entrepreneurship and the world's most meaningful endeavors
it aligns strongly with Millennial values (future customers and employees) who are highly oriented toward meaning and purpose
Purpose and Ecosystems
All of the authors above emphasize the role of purpose and ecosystem in the evolution of business and society.  They demonstrate how the most successful companies rally ecosystems around aspirational purpose in ways that traditional companies do not.  They demonstrate how these companies harness the power of ecosystem to blur the boundaries between purpose and profit to create superior performance. These companies understand that a democratized world is emerging and cooperation is becoming more effective than competition.  Lastly, they understand that capitalism guided by interdependent values not only accelerates performance, it has the power to solve the world's greatest challenges. That makes "Purpose" the number 5 reason that ecosystems are the future.
Previous:
Number 6 – Intrinsic Motivation
Number 7 – Freelancing & Coworking
Number 8 – The Collaborative Economy
Number 9 – Industry Platforms
Number 10 – Community Values